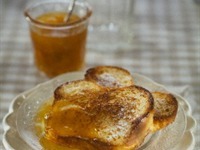 Breakfast is served Time!
Breakfast
Breakfast at The Shepherds Hut is served between 8am – 9am in the sun room. In cooler months the fire will be lit so guests can enjoy a cosy breakfast looking out over the Kyloe Hills and St Cuthbert's Way.
The 'breakfast basket' will typically contain:
Cereal and muesli
Yoghurt and fresh milk
Bananas
Fresh berries or home made fruit compote
Butter, jams, honey
Fresh orange juice
A basket of warm croissants, home made breakfast muffins and freshly made pancakes.
For practicality guests make their own tea or coffee at breakfast (everything is in the hut).
If you have any dietary requirements please contact us at time of booking.
The Sun Room
The Shepherds Hut is not self catering, but there is an area where you can use either a portable or disposable BBQ. Plates, bowls and cutlery are provided.
The sun room can also be used later in the day to enjoy a meal or just sit and watch the wild life. On clear nights the skies are amazing and ideal for star gazing as there is no light pollution.